Tackling the Rubicon Trail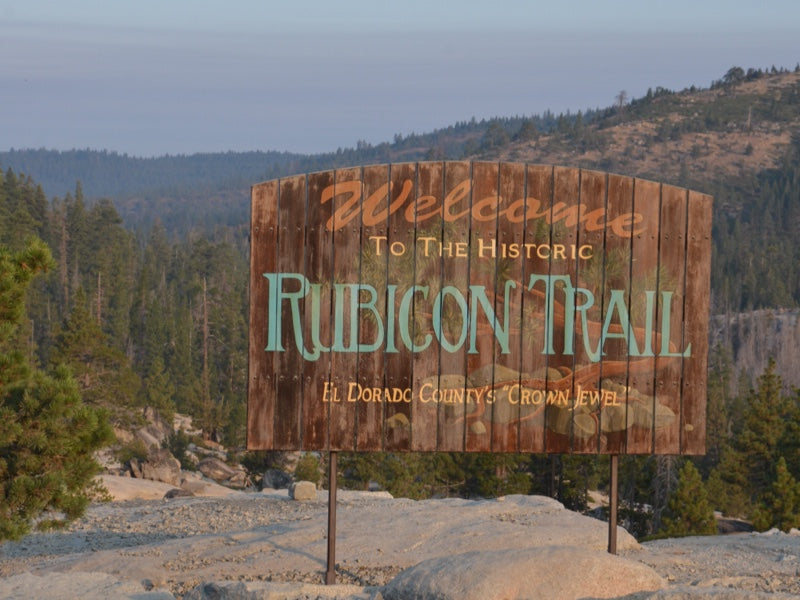 Ultimate Off-Road Trip
Ask any 4x4 off-roader what their dream trip is and you're likely to hear one answer – the Rubicon Trail. Located in the scenic Sierra Nevada mountain range that stretches across California and Nevada, the Rubicon Trail is 22 miles of pure off-road adventure. Considered by many as the most difficult OHV (off-highway vehicle) route in the US, the Rubicon Trail is a challenge worth taking. Your rewards for tackling this demanding terrain are breathtaking landscapes, majestic mountains, winding creeks, and lush trees. Be sure to take time to take in the splendor that surrounds you. Embarking on the Rubicon Trail calls for an experienced off-road driver behind the wheel. Along with an experienced driver, here are some tips that will make your trip on the Rubicon Trail a little easier.
Outfit Your Vehicle to Handle the Trail
The Rubicon Trail can be rough on your vehicle, so having the right vehicle outfitted with the proper equipment can be the difference between making it over an obstacle and being down for the count. A vehicle with a short wheelbase like a Jeep Wrangler is ideal but other trucks and SUVs also take on this challenging trail. Other equipment that can help your vehicle make the trek:
Tires – To make it over the rocks and other obstacles on the trail, consider running 35" or larger off-road tires. Don't forget a full-size spare.
Body Protection – While scratches are inevitable, protecting your vehicle's body can keep the damage to a minimum. Body armor, skid plates, glide plates and differential covers can all help your vehicle handle the rigors of the trail. Look to Rancho rockGEAR protective equipment to increase the versatility and capability of your Jeep Wrangler or Gladiator.
Lockers – To get true four-wheel drive capability, consider installing front and rear lockers. Designed to distribute power equally to both wheels on an axle, lockers can be extremely useful for the positions you may find yourself in on the trail.
Spare Parts and Tools – Unforgiving on your vehicle, breakdowns are a fact of life on the Rubicon Trail. With no auto parts stores on the trail, minimize downtime by bringing spare parts and all the tools needed to make repairs.
Winch – An absolute must for being able to extricate yourself. Select a winch rated at twice your vehicle's weight.
Bring All Supplies
With no grocery stores or gas stations on the trail, some planning is in order. From fuel to keep your vehicle powered and food to keep yourself going, you'll need to bring all the supplies you'll need for your time on the trail. Since you'll have to bring out what you bring in, consider removing excess food packaging to save space when packing for your trip. Bring lots of water and sun block to help deal with the hot and dusty conditions on the trail.

Plan for Pit Stops
Sanitation is a big concern on the trail. While there are vault toilets along the trail and at the camping spot at Rubicon Springs, there may not be one available when nature calls. Using a wag bag is the preferred method of disposing of waste. Like all trash, pack it in – pack it out is the best policy. This keeps the trail free of "white flowers," aka toilet paper.
Reserve a Camping Spot
Since completing the Rubicon Trail is typically a multi-day trek, finding a spot to park your vehicle and get some rest is a must. There is dispersed camping in the National Forests along the trail, and a popular paid option is the Rubicon Springs campground. No matter where you decide to camp, you'll need to bring your own tent and gear. Depending on what time of year you go, you might need to prepare for a range of temperatures.
Be Mindful of Fire Restrictions
Before lighting a campfire or using a portable stove, make sure you have a California Campfire Permit. Also be sure to check for any fire restrictions and/or closures on the trail. Fire restrictions can vary among the three forests that the Rubicon Trail runs through. Check the US Department of Agriculture Forest Service website for info on Tahoe National Forest, Eldorado National Forest and Lake Tahoe Basin Management Unit.
Spotter
Guiding your vehicle over the endless number of obstacles on the trail is the job of your spotter. Having an experienced spotter can help you successfully take on the most daunting parts of the trail. A tire placed one foot one way or the other is often the difference between crawling up an obstacle or flailing around.
Stay in Touch
With no cell phone coverage on the trail, making alternate plans for communicating with others is a must. For reaching home and the outside world, a satellite phone or HAM radio are reliable ways to make calls. CBs and handheld radios are good options for keeping in touch with others in your group on the trail.
Know Where You Are
Knowing where you are on the trail helps you track your progress. This takes on increased importance in an emergency situation. Be sure to download a map of the trail for offline use to your phone or other device.
Learn more about performance shocks, find your performance suspension part, or find where to buy your shock or suspension part today.
The content contained in this article is for informational purposes only and should not be used in lieu of seeking professional advice from a certified technician or mechanic. We encourage you to consult with a certified technician or mechanic if you have specific questions or concerns relating to any of the topics covered herein. Under no circumstances will we be liable for any loss or damage caused by your reliance on any content.