Must-Haves for Your Next Off-Road Adventure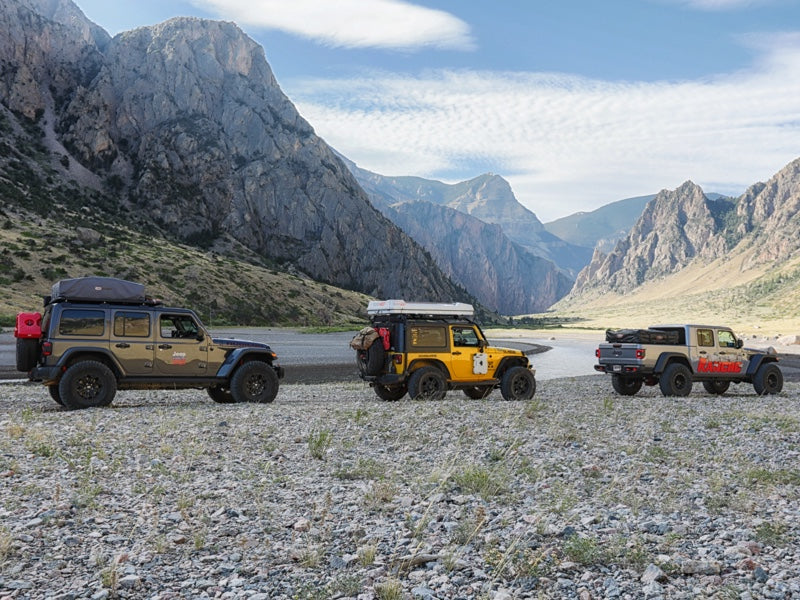 Be Prepared
From planning the perfect route to ensuring your vehicle is in tip-top shape, a day on the trail requires some preparation. Don't let a malfunction with your rig or a mishap on the trail ruin your day. Carrying some basic items with you is your assurance that you can handle the unexpected. Don't leave home without these items
Recovery Gear & Tools
Spend enough time on the trail and you'll learn that it can be unpredictable. Having the proper recovery gear, tools and protective gear ensure that you'll spend more time on the trail instead of working on your rig.
Vehicle Recovery Gear

If you get stuck or slide off the trail, be ready for these or any situations with the following recovery items.

Air compressor
D-rings
Hi-lift jack
Jump starter/jumper cables
Shovel
Spare tire (full size)
Tire repair kit
Tow straps
Tree saver
Winch
Tools

A basic assortment of tools can come in handy in many situations. Assemble your own kit or buy one that includes:

Sockets (SAE & metric – don't forget the 10mm socket)
Crescent wrenches (SAE & metric)
Allen wrenches
Standard & Philips screwdrivers
Torx sockets
Protective Gear for Vehicle

Protect your vehicle from direct contact in severe off-road conditions with rockGEAR® products from Rancho®.

Differential Glide Plate

Available for the front and rear, a Rancho rockGEAR differential glide plate protects your differential casting from direct contact. Rancho has offerings for the Jeep Wrangler JL (Dana 44 front - RS62116; Dana 30 front - RS62124; rear – RS62117; JK (Dana 44 front - RS6212; Dana 44 rear - RS6242); JT (front - RS62116; rear - RS62138).

Differential Cover

Designed to shield your differential, a Rancho rockGEAR differential cover features an oversized fill plug. Available for the front and rear, Rancho has covers for the Jeep Wrangler JL & JT (front - RS62119; rear - RS62120) and JK (Dana 44 front & rear RS6209).

Rear Shock and Control Arm Skids

Safeguard your rear shocks and control arm brackets with a Rancho rockGEAR rear shock and control arm skid. Rancho has skids for the Jeep Wrangler JL (RS62125) and JK (RS62135) and the Gladiator JT (RS62137). Manufactured from 0.25-in. high-strength, low-alloy steel for long life and durability.
Safety & Survival

The great outdoors can be unforgiving. Carry these items to ensure the well-being of yourself and your passengers.

First Aid Kit

A first aid kit can help you be prepared if you or someone in your travel party suffers an injury or becomes sick. Make your own or buy a premade kit. Make sure it includes basics like:

Alcohol swabs
Antibiotic ointment
Anti-itch cream
Bandages
Blanket
Cold & hot packs
Gauze
Hand sanitizer
Medications – anti-diarrheal medicine, aspirin, antihistamine, ibuprofen, acetaminophen
Scissors
Tape
Tweezers

Safety Basics

These basic items will ensure that you're ready for whatever the trail throws at you.

Fire extinguisher
Flares
Flashlight
Gloves
Lighter/matches
Tarp

Personal Items

From food to an extra set of clothes, having a bag filled with some essential personal items will make your trip more enjoyable.

Food
Water
Extra clothes
Sun block
Rain jacket

Communication Devices

Keep in touch with others on the trail. Remember, you might not have cell phone service so having an alternate way to contact others is important.

CB radio
Two-way radios
Satellite phone
Chargers for all devices

Don't Go It Alone

Travel in groups of two or more vehicles – there's safety in numbers if something goes wrong on the trail. Also tell someone back home where you're going and when you'll be back.
Learn more about performance shocks, find your performance suspension part, or find where to buy your shock or suspension part today.
The content contained in this article is for informational purposes only and should not be used in lieu of seeking professional advice from a certified technician or mechanic. We encourage you to consult with a certified technician or mechanic if you have specific questions or concerns relating to any of the topics covered herein. Under no circumstances will we be liable for any loss or damage caused by your reliance on any content.