Leveling Chevrolet Silverado and GMC Sierra Trucks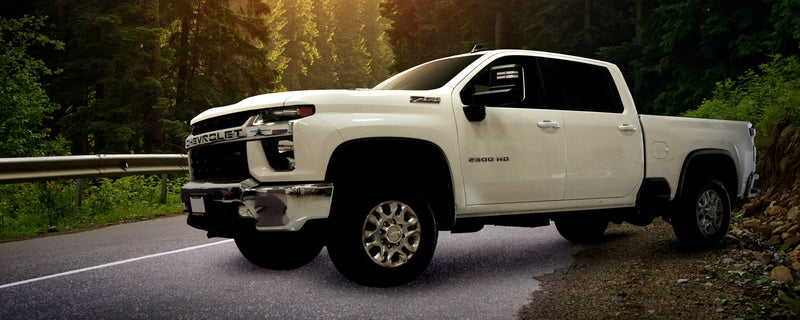 Leveling Your Silverado or Sierra
Whether you want to install bigger tires or eliminate the factory rake, leveling your truck may be on your list of improvements to make to your rig. For owners of Chevrolet Silverado and GMC Sierra models, leveling your truck with the Rancho® LEVEL IT Torsion Key System is a better option than using the stock torsion keys.
What If I Use the Stock Torsion Keys?
Your first thought might be to crank up the torsion keys that came stock on your vehicle to raise the vehicle. However, this option doesn't come without consequences. If you crank up the torsion keys to the point that they top out, you'll have no travel beyond the adjusted static ride height. This can lead to a rough ride. Also, without shock extensions or longer shocks, they'll top out and damage the shocks. You also put more stress on the adjuster bolt and nut. As you crank the bolt up, the bolt undergoes exponentially more force as the key rotates up and away. With a lifted key, the bolt is adjusted to the OE length, so the key sits more level, where the forces at the bolt are less. To avoid damage to your vehicle, you need a different solution.

How Do Aftermarket Torsion Keys Work?
For many Silverado and Sierra models, installing a Rancho LEVEL IT Torsion System will give the lift you desire to accommodate larger tires and level out the truck's rake while maintaining the factory ride.
The Rancho LEVEL IT comes with a correct key that is designed to accommodate the level and a larger size tire as well. Kits also come with longer travel shocks up front that complement the new forged e-coated key.
LEVELED STANCE Reduces factory rake and evens out truck's stance
COMPLETE SOLUTION Kit includes two LEVEL IT torsion keys and two Rancho RS5000®X extended length front shocks to accommodate tires up to 33-in. (tire size varies between manufacturers)
MAINTAINS OE RIDE Keeps factory ride quality for dependable performance
ENGINEERED TO LAST Torsion keys feature forged construction for long life and durable e-coat finish to resist rust and corrosion
EASY TO INSTALL Bolt-on installation for an easy upgrade
BUY WITH CONFIDENCE Comes with Rancho's limited lifetime warranty
Rancho LEVEL IT Kits for Chevrolet Silverado & GMC Sierra
Part Number
Application
Front Shocks with Kit
RS66352R5
2020-2022 Chevrolet Silverado/GMC Sierra 2500/3500 2/4WD
Rancho RS5000X
RS66351R5
2011-2019 Chevrolet Silverado/GMC Sierra 3500/3500 HD 2/4WD
Rancho RS5000X
RS66350R5
2001-2010 Chevrolet Silverado/GMC Sierra 2500/3500 HD 2/4WD
Rancho RS5000X
RS66300R5
1999-2007 Chevrolet Silverado/GMC Sierra 1500 4WD
Rancho RS5000X
Learn more about performance shocks, find your performance suspension part, or find where to buy your shock or suspension part today.
The content contained in this article is for informational purposes only and should not be used in lieu of seeking professional advice from a certified technician or mechanic. We encourage you to consult with a certified technician or mechanic if you have specific questions or concerns relating to any of the topics covered herein. Under no circumstances will we be liable for any loss or damage caused by your reliance on any content.