How to Install Rancho® RS5000®X Shocks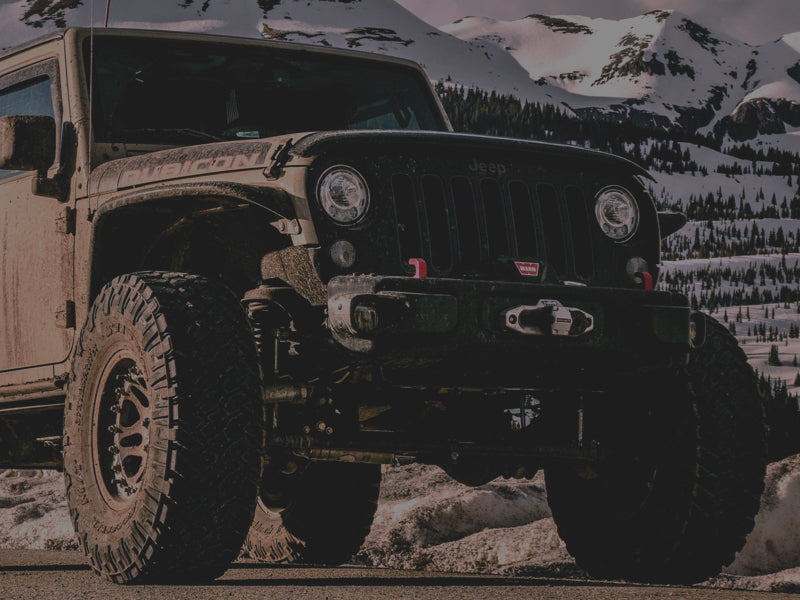 Cross Tuned Technology
Packed with innovative features, Rancho® RS5000®X shocks deliver improved overall on- and off-road handling and performance thanks to Rancho's exclusive Cross Tuned technology. Developed by the ride engineers at Rancho, this unique and exclusive rebound valving system and advanced compression phase of the shock absorber is at the heart of the RS5000X. Read on to learn how to install this shock to deliver improved overall on- and off-road handling and performance.
Installing the RS5000X Shock
Installing the Rancho RS5000X is straightforward job for both technicians and DIYers. Before jumping into the repair, take the time to complete some basic safety steps to get ready for the job.
Step 1 – Stay Safe
Be sure to follow these tips to ensure that you complete the job safely.
Park vehicle on a flat, level surface.

Chock the rear tires in the front and back to ensure the vehicle doesn't roll forward or backward.

Set the parking brake for an extra measure of safety.

If using jack stands, position them under the frame where you're working. If installing a front shock, put jack stand under the front frame and not under the front control arm.
Step 2 – Remove Tire
To get started, remove the vehicle's tire. In some cases, you may not need to remove the tire to get access to the shock.
Step 3 – Remove Old Shock
Locate and remove the bolts at the top of the shock. Also remove the bolt that goes through the shock. Once the bolts are removed, take the old shock out.
Step 4 – Install New Shock
With the old shock out of the way, it's time to install the new Rancho RS5000X shock. Position the new shock and then install the bolts. Torque the upper nuts and lower bolt to manufacturer specifications. Be sure to reference your owner's manual or the technical manual for your vehicle.
Step 5 – Replace Tire
Finish up the repair by putting the tire back on and torque it back to manufacturer specifications (if you removed it).
RS5000X Shock Features
IMPROVED HANDLING AND PERFORMANCE -- Cross Tuned technology featuring exclusive rebound valving system and advanced compression phase improves overall handling and performance on- and off-road
MINIMIZES ROUGH RIDE -- Exclusive Progressive Engagement Valving is custom-tuned for each vehicle to help reduce initial impacts at low speeds and minimize a rough ride
STRONG AND DURABLE -- Features a 16mm nitro-carburized piston rod to resist scuffs and corrosion, double-welded loops at stress areas, 35mm sintered iron piston for enhanced structural integrity and polyvinyl protective boot
HANDLES EXTREME TEMPERATURE CHANGES -- Large twin-tube body filled with all-weather fluid allows for cooler operation, increased vehicle control and ability to withstand internal temperatures of -40 to 248°F
SMOOTH PERFORMANCE -- Polyurethane rebound bumper and rubber bushings help absorb ride harshness, while the fluon-banded piston enhances responsiveness to changing road conditions for an overall smoother ride
Rancho RS5000X Shocks
Year

Make/Model

Part Number - Location

2018-present

Jeep Wrangler JL

RS55063 - Front

RS55064 - Rear

2020-present

Jeep Gladiator JT

RS55063 - Front

RS55069 - Rear

2007-2018

Jeep Wrangler JK

RS55326 - Front

RS55328 - Rear

2014-2020

RAM 2500/3500 4WD

RS55197 - Front

RS55044 - Rear

2015-2020

Ford F-150 4WD

RS55836 - Front

RS55316 - Rear

2014-2018

Chevrolet Silverado/GMC Sierra 1500 2WD/4WD

RS55830 - Front

RS55198 - Rear

2011-2020

Chevrolet Silverado/GMC Sierra 2500/3500

RS55377 - Front

RS55379 - Rear
Learn more about performance shocks, find your performance suspension part, or find where to buy your shock or suspension part today.
The content in this article is for informational purposes only. You should consult with a certified technician or mechanic if you have questions relating to any of the topics covered herein. Tenneco will not be liable for any loss or damage caused by your reliance on any content.