Do I Need a Reinforced Track Bar Support Bracket on My Jeep Wrangler JL or Gladiator JT?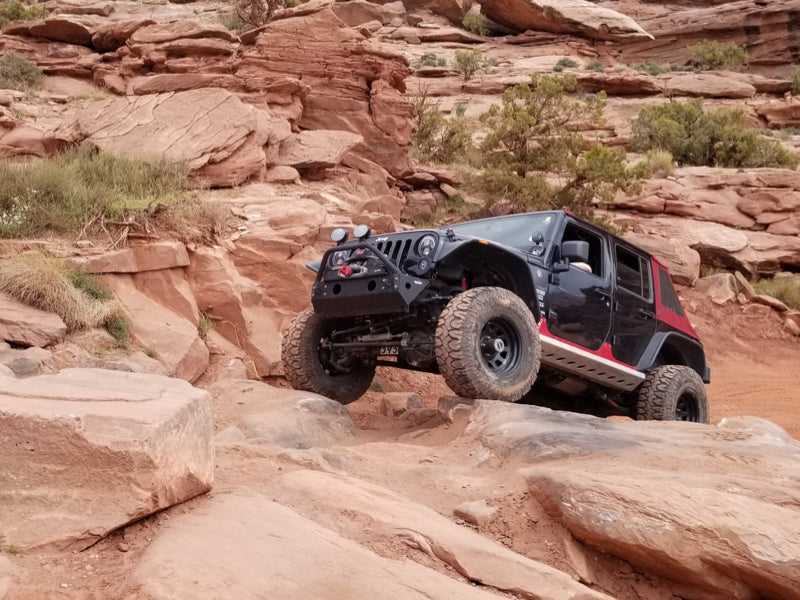 Carrying the Load
When making modifications like adding a suspension lift kit or installing bigger tires to your Jeep Wrangler JL or Gladiator JT, there is one final step that shouldn't be overlooked. Before you finish up your project be sure to install a track bar support bracket. Bigger tires and lifts put a lot of stress on the stock track bar bracket on the frame side, as does flexing a lot. If it gets "ripped" or fatigued, road feel suffers and the Jeep can be very unstable on the road. This little upgrade is a must and easy to install.

Advantages of Installing a Track Bar Support Bracket
Lifting your Wrangler or installing larger tires on your Gladiator can push your track bar past its limits. Installing a Rancho® track bar support bracket can help your rig in many ways:
Distributes the load from larger tires more efficiently to the frame
Strengthens factory mount for off-roading rock crawling and trail riding
Reduces threat of failed OE bracket on lifted vehicles or those with larger than stock tires
How to Install a Track Bar Support Bracket
Installing this on your Jeep is a straightforward repair. For more information, check out the installation sheet that comes with each Rancho track bar support bracket.
Park vehicle on flat surface, engage emergency brake, and chock rear wheels.
Remove track bar bolt at frame side.
Raise the front of the Jeep slightly and place jack stands on the frame. Remove driver's side front tire.
Use a jack and wooden box to hold steering box in place. NOTE the position of the bolts in the steering box.
Remove the four bolts from steering box.
Install the Rancho track bar support bracket over the track bar frame bracket on the Jeep.
Install the OE M14 bolt through the newly installed Rancho track bar support bracket. Install the four steering box bolts loosely.
Torque bolts down according to the chart below.
Reinstall the wheel. Torque to manufacturer's specs.
Attach track bar to frame side mount with supplied hardware and torque to specs listed in the chart below.
Torque Specs
Steering Box Mounting Bolts
99 lb-ft
Track Bar
110 lb-ft
Track Bar Jam Nut
150 lb-ft
M10 Support Brace Hardware
40 lb-ft
Wheels (Lug Nuts)
130 lb-ft
Learn more about performance control arm kits, find your performance suspension part, or find where to buy your shock or suspension part today.
The content contained in this article is for informational purposes only and should not be used in lieu of seeking professional advice from a certified technician or mechanic. We encourage you to consult with a certified technician or mechanic if you have specific questions or concerns relating to any of the topics covered herein. Under no circumstances will we be liable for any loss or damage caused by your reliance on any content.