When to Replace Your Track Bar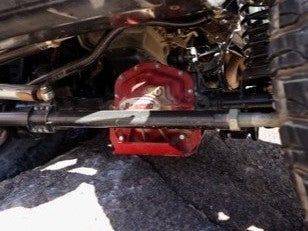 What is a Track Bar? What Does a Track Bar Do?
A vital part of a Jeep's suspension system, a track bar centers the axle and prevents it from moving laterally while allowing the suspension to freely move up and down. Designed to keep the axle centered under the Jeep, the track bar works by connecting on one end of the axle to the frame of the Jeep on the opposite side. The bar moves up and down with pivots that connect both ends. Important for proper alignment and geometry, the track bar keeps the frame in line with the suspension and enables your vehicle to track straight. Most 4WD vehicles equipped with solid axles and coils come with front and/or rear track bars. Jeep Wrangler JK, JL and Gladiator JT have a front and rear track bar. However, most full-size trucks have only a front track bar and leaf packs in the rear.
When to Upgrade the Track Bar
When making performance upgrades to your Jeep, like adding larger tires or a suspension lift, you may notice that the handling or performance isn't the same as when everything was stock. You may feel like your rig is drifting while going down the road or you may notice that your Jeep looks offset from the front or rear because the stock track bar is now too short. Most OE track bars, under heavy loads with large tires and/or a suspension lift, can suffer from slight flexing. This slight bending can lead to performance issues. If you have installed a lift kit or put larger tires on your Jeep, a new track bar may be in order. Track bars can bend or break after modifications; bolts can break causing damage to bushings. By installing a heavy-duty adjustable track bar, you'll ensure your rig is stable and centered.
Track Bar Relocation Brackets – Affordable Alternative
Track bar relocation brackets are a cost-effective way to move the existing stock track bar without the expense of replacing the track bar. A track bar bracket can move the position of the track bar to accommodate a lift kit. Jeep Wrangler owners who add a lift kit might opt to put track bar brackets on the rear track bar and replace the front track bar with an adjustable model.
Symptoms of a Bad Track Bar
A damaged, loose, or improperly adjusted or torqued track bar can cause the axle be off center. Be on the lookout for the signs of a failing track bar:
Vibration in steering wheel
Noises coming from the front end
Vehicle pulls to side
Wobbling that becomes worse at higher speeds
Vehicle is hard to turn
If you experience any of these symptoms, it's time to have your suspension inspected to see what the issue is.
Learn more about track bars and track bar brackets, find your performance suspension part, or find where to buy your shock or suspension part today.
The content contained in this article is for informational purposes only and should not be used in lieu of seeking professional advice from a certified technician or mechanic. We encourage you to consult with a certified technician or mechanic if you have specific questions or concerns relating to any of the topics covered herein. Under no circumstances will we be liable for any loss or damage caused by your reliance on any content.