Solving Bump Steer on a Jeep Wrangler JK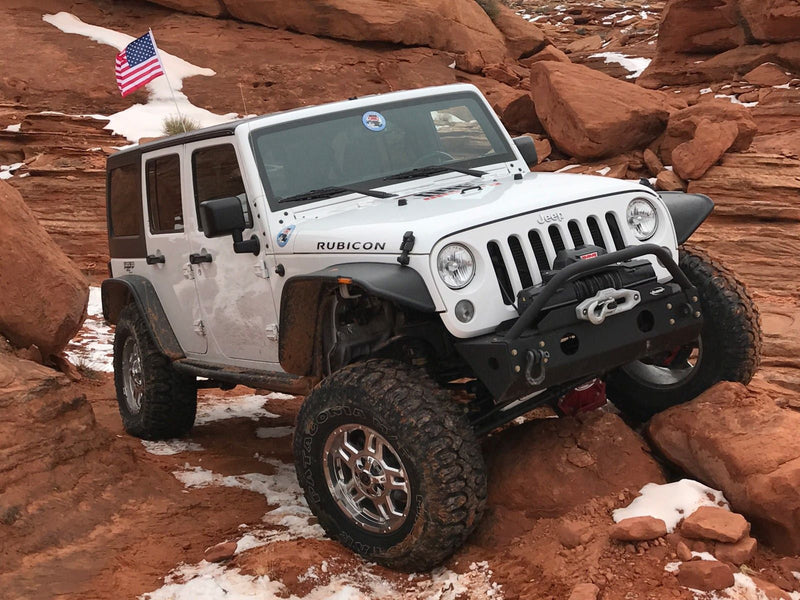 What is Bump Steer in a Jeep Wrangler?
From installing larger tires to gaining additional clearance for a day on the trail, there are many reasons Jeep owners add a suspension lift kit to their Wranglers. However, when you install a lift kit, it can affect the steering and handling of your rig; you may experience a condition that is often referred to as "bump steer," which is the feeling of your Jeep "wandering" all over the road whenever you hit a little bump or dip. Whether you're travelling on-road or off-road, this condition is disconcerting because you can feel like you have no control over the vehicle.
Why Does Bump Steer Occur?
When you lift your vehicle, it alters the geometry of the suspension and can cause a misalignment of the steering system. The effects can be dramatic on taller lifts. On a stock Jeep, the track bar and drag link are parallel to each other, so when you add a lift kit or make other modifications to the suspension, the angles of these two key parts changes.

How to Resolve Bump Steer with Rancho® Suspension Parts
To get rid of bump steer and ensure that your Jeep JK handles the way you expect it to, it is necessary to restore the angles of the track bar and drag link so they're close to factory spec. To get these parts parallel to each other, it may be necessary to replace or add some new parts to your vehicle.
Rancho has a solution for getting the track bar and drag link back in spec to help fix or avoid the problem of bump steer in a Jeep Wrangler JK. Installing Rancho's high clearance steering knuckles used in conjunction with Rancho's flipped drag link and track bar bracket will get your steering up and out of the way and address bump steer.
Rancho RS62100 High-Clearance Steering Knuckle – Rancho high-clearance steering knuckles add 1.5-in. of clearance to lifted Jeep Wrangler JK models to protect steering components and lift the steering linkage away from off-road obstacles. The kit includes two knuckles and 3-in. bump stops.
Rancho RS62102 Flipped Drag Link – The Rancho steering flip drag link flips the drag link up on lifted Jeep Wrangler JK models to provide protection from rocks and other obstacles while off-roading, rock crawling, and trail riding. Greaseable, it mounts in the steering knuckle and connects to the inner tie rod at the pitman arm.
RS62101 rockGEAR Front Track Bar Relocation Bracket – Reduce body roll and improve a lifted Jeep Wrangler JK's overall handling with the Rancho rockGEAR front track bar relocation bracket. This heavy-duty bracket helps restore proper suspension geometry and raises the vehicle's axle-side track bar mount.
RS62115 HD Adjustable Front Track Bar – Designed to work on 2-in. to 6-in. suspension systems, the Rancho HD adjustable front track bar allows you to center the front axle in the proper position on your Jeep Wrangler JK.
Learn more about performance shocks, find your performance suspension part, or find where to buy your shock or suspension part today.
The content contained in this article is for informational purposes only and should not be used in lieu of seeking professional advice from a certified technician or mechanic. We encourage you to consult with a certified technician or mechanic if you have specific questions or concerns relating to any of the topics covered herein. Under no circumstances will we be liable for any loss or damage caused by your reliance on any content.