Solid Axle vs Independent Front Suspension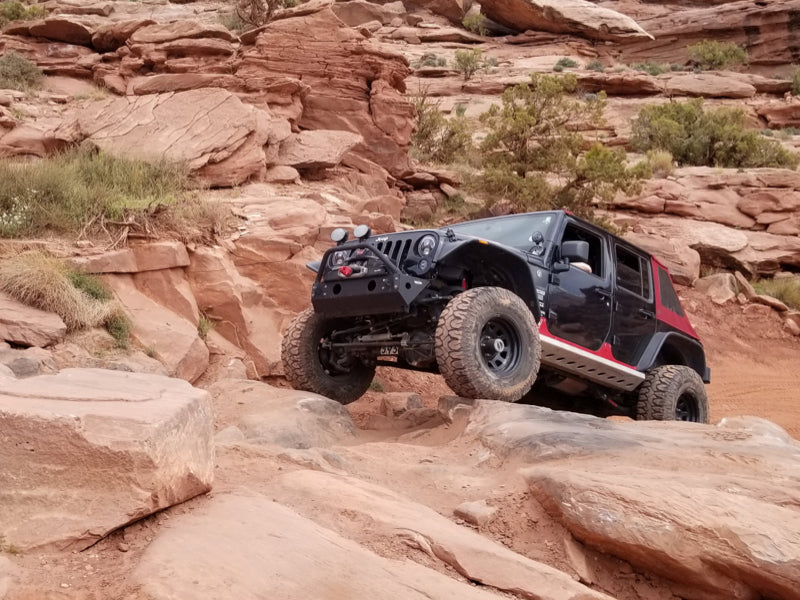 The Great Debate
When it comes to off-road suspensions, there are two main setups in the front – solid axle suspension and independent front suspension (IFS). Comparing these suspensions is sure to generate some spirited discussion among off-road enthusiasts. As is the case with most things, there isn't a clear cut answer to the question of which suspension is better. To determine which suspension is best for you, check out this in-depth examination.
Suspension Basics
If you take your vehicle off-roading or rock crawling, you need your suspension to be able to handle a variety of terrains. To travel over obstacles, you need your suspension to articulate. To ensure that your vehicle can handle the rigors of the trail, you may consider modifying your Jeep, truck or SUV to increase the travel of the suspension. And this is where the debate begins – which suspension is the best for modifying to achieve increased suspension travel.
Solid Axle Suspension
Found on older vehicles and models like the Jeep Wrangler JL, a solid axle suspension (also known as beam axle and live axle) is configured with both wheels being connected to a single axle that goes across the span of the rig. In this setup, when one wheel moves up or down, it has a direct impact on the wheel on the other side.
ADVANTAGES
Easy to Repair
With its simple construction, solid front axles are easy to repair and upgrade. There is plenty of room to access components and work.
Wheel Travel
Solid axle setups have room for increased wheel travel, which is great if you're looking to add larger tires to your rig.
Handles the Load
Sporting a hefty build, a solid axle front suspension can handle heavy loads.
Ideal for Heavy Off-Road Use
A solid axle front suspension is a good for vehicles that spend a lot of time on the trail or rock crawling.
DISADVANTAGES
Stiff Ride
With a rigid setup, the ride on a solid axle suspension is rough, with riders feeling it when the vehicle hits bumps and other obstructions.
Poor Handling
Drivers will notice.
Not for High Speeds
While solid axle configurations shine at low speeds while rock crawling, it's not good for traveling at high speeds.
Independent Front Suspension
On an independent front suspension, each wheel on the same axle moves independently when hitting a bump or going over an obstacle. Found in most modern vehicles, independent front suspension offers a comfortable ride and precise handling on and off the trail. With IFS, the wheels stay in contact with road, providing stability.
ADVANTAGES
Better Handling
Handling dips, bumps and other obstructions with ease is one of the hallmarks of IFS.
Smooth Ride
You'll appreciate the reduced bounce and comfortable ride that comes with IFS.
Ideal for Daily Drivers
Designed to perform in a variety of conditions, IFS is ideal for vehicles that spend more time on the pavement than the dirt.
DISADVANTAGES
More Expensive to Repair
Because of its complex design, maintaining an IFS system is more expensive to repair.
Less Wheel Travel
The vehicle doesn't have as much wheel travel when lifted since it doesn't "flex" like a solid axle.
Learn more about performance shocks, find your performance suspension part, or find where to buy your shock or suspension part today.
The content contained in this article is for informational purposes only and should not be used in lieu of seeking professional advice from a certified technician or mechanic. We encourage you to consult with a certified technician or mechanic if you have specific questions or concerns relating to any of the topics covered herein. Under no circumstances will we be liable for any loss or damage caused by your reliance on any content.