Rancho® RS7MT® Struts Deliver Precision Performance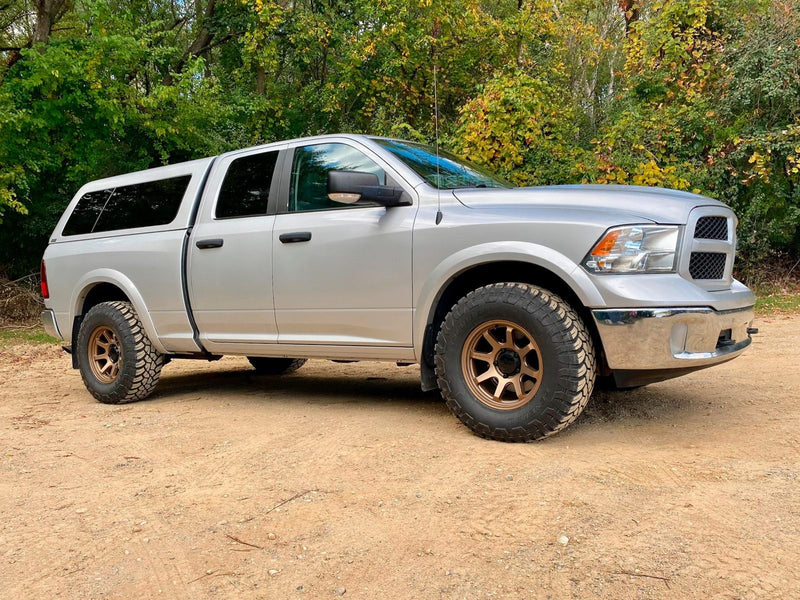 Importance of Struts
Designed to help with your vehicle's ride and handling, struts are a major structural component of the suspension system. Along with shocks, struts keep your vehicle's tires in contact with the road which helps:
Control excessive tire and body movement
Reduce vehicle sway, roll and bounce
Helps maintain wheel alignment and consistent handling and braking
Cuts down on premature wear on other suspension parts and tires
In addition, struts perform two unique functions. Like a shock, struts aid in damping but unlike shocks, struts perform a support function holding the tire in an aligned position and bracing the spring.
Advantages of a Rancho® RS7MT® Strut
Application tuned for precision on-road and off-road handling, Rancho RS7MT monotube struts are highly effective in the dissipation of heat, making them ideal for extreme off-road use and larger wheel and tire packages. RS7MT struts feature an integrated dirt wiper sealing system that keeps dirt and debris out, hardened piston rod that resists scuffs and corrosion plus an internal rebound bumper to smooth out your ride on any terrain.
PRECISE HANDLING AND PERFORMANCE - Deflective Disc Valving features digressive, linear or progressive turning based on application requirements for precision handling and performance on- and off-road.
STRONG AND DURABLE - Features a 14mm hardened chrome piston rod to resist scuffs and corrosion, double-welded loops at stress areas, double-strength closure method, and hot form reserve tube
HANDLES EXTREME TEMPERATURE CHANGES - Large 2-in. monotube body filled with all-weather fluid allows for cooler operation, increased vehicle control and ability to withstand internal temperatures of -40 to 248°F
REDUCES FADE - Full-floating dividing piston and high-pressure nitrogen gas maintains constant pressure against the hydraulic oil, reducing aeration and fade
SMOOTH PERFORMANCE - Internal rebound bumper and shouldered rubber bushings help reduce noise, vibration and ride harshness, while the PTFE-banded piston enhances responsiveness to changing road conditions for an overall smoother ride
THE RIGHT FIT - Designed to fit right out of the box, application-specific mounting installs easily with no need for installing sleeves or extra hardware
KEEPS DIRT AND DEBRIS OUT - Sealing system with integrated dirt wiper helps keep moisture, dirt and debris from being ingested into the strut and contaminating the oil and destroying the internal seal
BUILT TO LAST - Large 46mm fluon-banded piston for consistent sealing between the piston and monotube for precise control, ride and handling
BOLD APPEARANCE - Black satin finish with distinctive Rancho red logo for an eye-catching look that stands out
BUY WITH CONFIDENCE - Comes with Rancho's Limited Lifetime Warranty
Rancho RS7MT Steering Stabilizer*
Part Number
Applications
Stabilizer Setup
RS77830
2014-2018 Chevrolet Silverado/GMC Sierra 1500
2015-2020 Chevrolet Suburban/Tahoe; GMC Yukon/Yukon XL
Front
RS77841
2015-2022 Chevrolet Colorado/GMC Canyon
Front
RS77804
2009-2013 Ford F-150
Front
RS77846
2019-2022 Chevrolet Silverado/GMC Sierra 1500
Front
RS77759
2007-2021 Toyota Tundra
RS77836
2014-2020 Ford F-150
Front
RS77808
2009-2018 Ram 1500
2019-2022 Ram 1500 Classic
Front
RS77777
2003-2022 Toyota 4Runner
2007-2014 Toyota FJ Cruiser
2005-2022 Toyota Tacoma
Front
RS77784
2007-2013 Chevrolet Avalanche
2007-2013 Chevrolet Silverado/GMC Sierra
2007-2014 Chevrolet Suburban/Tahoe; GMC Yukon/Yukon XL
Front
RS77845
2019-2022 Chevrolet Silverado/GMC Sierra
Front
*Consult the Rancho catalog to confirm coverage for your application.
Learn more about performance control arm kits, find your performance suspension part, or find where to buy your shock or suspension part today.
The content in this article is for informational purposes only. You should consult with a certified technician or mechanic if you have questions relating to any of the topics covered herein. Tenneco will not be liable for any loss or damage caused by your reliance on any content.